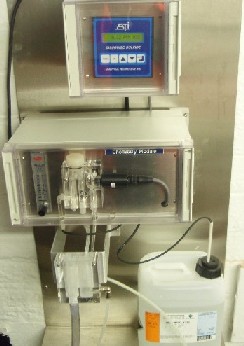 ATi and a blue chip drinks company have successfully trialed the A15/81 monitor. Measuring down to 5ppb of H2S direct from the water source show the user the levels of 'dissolved Sulphide's in their water source. After successful trials, the company is now installing 6 of these units in their Huddersfield bottling site with plans to fit the same at their Norwich and Leeds sites.

Monitoring H2S at such low levels is very hard to accomplish with anything out there in the market place. ATi have designed an on line, continuous monitor that can measure such low levels of H2S direct from the water source. This unit is also used successfully in waste water applications with the assistance of a powerful pump that keeps the 'nozzle' clean with an effective air clean system.

Dosing oxygen, Nutriox (and other oxygen based chemicals/gases) is a very expensive method of reducing odour. If you can control the dose effectively to eliminate the odour, payback can be within months. This is a method now used by some of the UK water companies with success.